Posted by tracy on Jul 7th, 2012
The 3 C's of Social Media, Connecting, Collaborating & Communicating for Business… Thanks to the ladies at The Westside Business Women's network I'll be speaking about connecting, collaborating and communicating for business. The event will be held on Wednesday 25th July 2012 at the Springfield Lake Hotel, Ipswich, Qld. You can find more information about the event at the...
Posted by tracy on Aug 13th, 2011
Social media training and workshop on the Gold Coast – Cupcakes and Connections Today I had the joy of teaching a lovely bunch of ladies a little bit more about Facebook. My company Social Ignition held our Cupcakes and Connections morning and it was an absolute blast! With a total of 11 willing learners, it was fun to be able to share some tips and tricks on how to help Facebook work for...
Posted by tracy on Aug 25th, 2010
The Entertainment Book Rocks! One of the coolest things that I've discovered being in Australia is the Entertainment Book. For those of you who don't know about it (and shame on you if you don't!), the Entertainment Book is this awesome book that you buy for around $50-60 and it has lots of cool vouchers in it for free stuff. Yes, you read that right, FREE! Help Others While...
Posted by tracy on Jul 18th, 2010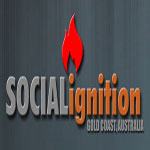 Our History Social Ignition grew out of a long-term desire to bring online communities to the masses. For over 16 years, we have been involved in online communities, virtual worlds and social media. Long before Facebook, YouTube and Twitter, we were on IRC, IM and Second Life, learning how to interact in the online world and truly gaining a deep understanding of how people engage online. Earlier...
Posted by tracy on Mar 19th, 2010
I'm currently attending a social media seminar in Brisbane that's being run by Laurel Papworth. Her excellent, informative approach is handy for those who already have social media experience and beginners. So far we've looked at Twitter, Facebook and are about to do some blogging work after lunch. I highly recommend this as a seminar to attend if...
Posted by tracy on Mar 12th, 2010
Okay so this isn't The Gettysburg Address and I'm no Abe Lincoln, but go with me on this. Firstly – for those unaware – Foursquare is a locational social networking tool, that lets you "check-in" at various places (restaurants, shops, venues) on your mobile device and leave comments about your experience. The thing with Foursquare though is that it works by...