Posted by tracy on Aug 31st, 2010
If there's something that tells me how lucky I am to work from home right now, it's this photo. Yes, it's our baby dog Huxley, getting comfortable on my desk. For some reason, it doesn't matter how many cushions, dog beds or other soft surfaces there are, he seems to want to position himself on my desk, right on my keyboard. I have a theory about this and here it is for...
Posted by tracy on Mar 7th, 2008
Just a little post with some pictures for those of you that miss seeing images of the poochies. We were on our way back from the groomers and they were both in the back of the car on the mattress. We had been to Marina Mirage for lunch whilst Ambro and Huxley were bathed and pampered like the little prince and princess they are. There are some funny pictures on my flickr.
Posted by tracy on May 10th, 2007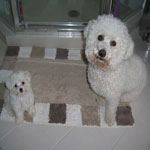 Welcome to the family Huxley – On April 16 2007 – We'd like to welcome Huxley Whitelaw to the family. He's a Maltese / Bichon cross and is a little cutie. We had decided not to get another dog, despite when we first arrived thinking it was a good idea, so that Ambro had a companion. All of that changed however when we were walking past the pet store and saw Huxley peering out...